This article is a

stub

. Please help

expand it

quick, before the Eagle catches you!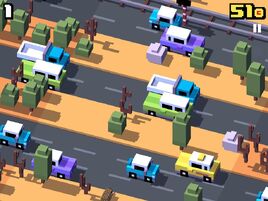 A Desert is a type of lane in Crossy Road. It replaces the Grasslands when playing as specific characters, mainly the Australian characters.
Appearance
Edit
Desert lanes have a similar color to sand. Unlike the Grasslands, the desert has only one color. The Desert Lanes can have Australian trees , tree stumps, and boulders on them. The edges are darker to mark the playable area.
Interaction with the Player
Edit
Deserts can be thought of safe zones because there are no cars or trains on it. The only dangers in the Desert lanes are the Drop Bear and the Eagle. The Drop Bear can drop on the player, if the player gets near the tree it is on. The Eagle can pick up the player if the player idles too long. There are also Crocodiles which act as some of the Logs in the Rivers and if the player jumps on their snout, they will eat the player, killing them and ending the run.
It appears that the desert has more dangers than the grasslands. This is because while the grasslands only have the Eagle as a threat, the desert has the Drop Bear, the Eagle and Crocodiles. Thus, making it more dangerous.
Community content is available under
CC-BY-SA
unless otherwise noted.