Forget-Me-Not
Type
"Friends of Crossy"
Price
$0.99 or 100
Characteristics
Pink flowers appear upon gameplay
Forget-Me-Not is a playable mascot in Crossy Road. He can be found in the prize machine or can be bought for 0.99
Appearance
Forget-Me-Not is based on an indie game that designer Matt Hall played, called Forget-Me-Not. It is a white cube with two black eyes on the top of its body.
Characteristics
When playing as Forget-Me-Not, pink flowers (which are fairly rare, though not as rare as coins), like those in the original Forget-Me-Not game, can be found on the map. Collecting more than ten of the flowers will cause the screen to flash a different colour after picking each one up and will cause a strange noise. After picking up 20, a ghost will appear on the screen and will stay there until the player gets killed. While it is on the screen, it begins floating without direction around the screen and producing swirly sounds, as if to distract the player or obscure the mascot. Once 30 are picked up, a bright yellow flash will appear, accompanied by a strange sound (much like what happens when 10 pieces are picked up).
This video shows some of the characteristics of Forget-Me-Not:
How to Obtain
Forget-Me-Not can be unlocked with the Prize Machine for 100 Coins, or purchased for $0.99 (or the equivalent currency).
Trivia
Many players suspected that the pink items were puzzle pieces, but they are in fact, flowers.[1]
Forget-me-nots, also called scorpion grass, are a type of flowering plant, which is why there are flowers in both games. Of German origin, the name was first used in English in 1398 through King Henry IV. The flowers can be pink, blue, white or yellow, and have yellow centres. Unlike the Crossy Road flowers, forget-me-nots have five petals.
Forget-Me-Not was based on a game that Matt Hall really loved by a Melbourne designer called Brandon Williamson.[2]
Developer Quotes

"Forget-Me-Not was a game that I really loved by a Melbourne designer called Brandon Williamson. It's one of my favorite iOS games, and it sort of went into obscurity. But I really loved the character, and I wanted to help him out, so I petitioned him to let us put the character in the game. The little pink things are from his game. The more you collect, the more it changes the game."
Gallery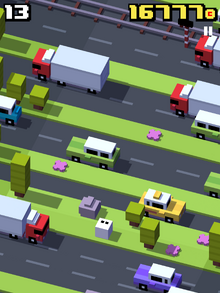 References
Credits
© Brandon Williamson http://nyarlu.net
Community content is available under
CC-BY-SA
unless otherwise noted.