Prize Machine
Characteristics
Yields a random mascot when 100 are inserted
The Prize Machine, sometimes referred to as the Gacha or Lottery, is the gumball style machine in which you unlock the majority of all mascots in Crossy Road.
Appearance
Edit
The Prize Machine is based on a real life gumball style machine. The Prize Machine is red and yellow in appearance with blue stained glass. It contains six visible capsules. A seventh one appears at the back before being dropped for the player to collect.
Each time the player has collected 100 coins, the Prize Machine may be used. Every use will yield a mascot via a free gift, though it is possible to receive a mascot that has already been obtained. Crossy Road support has stated that the game records the amount of duplicate mascots obtained and they would come into use in the future.[1] The chance of receiving a duplicate mascot increases as the player obtains more mascots.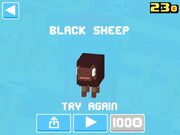 When the player has unlocked all but the pay-only mascots, they will no longer be offered to "win a prize."
Unobtainable Mascots
Edit
The Chicken cannot be obtained through the prize machine as it is the original character while Piggy Bank and Psy can only be bought via in-app purchase.
Secret Mascots cannot be obtained from the Prize Machine. These include:
References
Edit
Community content is available under
CC-BY-SA
unless otherwise noted.