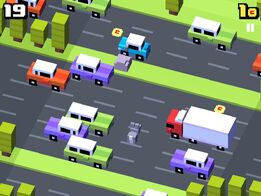 Roads are a type of lane that appear in Crossy Road. They are the most common and often the most dangerous.
Appearance
Edit
The roads in Crossy Road are darkish grey in color, and turn even darker near the edges to mark the players playable area. When two or more roads are side by side, they gain thin gray lines that run down the edges of each individual road lane to mark the individual road. These lines also get darker outside the playable area.
When playing as Pac-Man the lines in the middle change color every few seconds.
Interactions with the Player
Edit
Roads are probably the most common type of lane a player will come across. They are also dangerous because of the amount of automobiles that are constantly driving on them. One of the most popular strategies for dealing with them is to wait for when the roads are empty or almost empty, then sprint across them. However, the player must watch out for a Police Car, as they come with a little warning. Another problem with this, however, is that if the player takes to long waiting, the eagle will come and kill them. One way to easily get across roads is to get on the opposite side where the cars are coming from. For example, if cars were coming from the left side of a road, get on the right side of it.