This article is a

stub

. Please help

expand it

quick, before the Eagle catches you!
The Seahorse is a playable mascot that can be found in the ocean tab of in Crossy Road.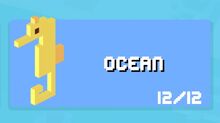 Appearance
Edit
Seahorse is a simplified version of a real seahorse, with a horselike head, squarish body, and a curly tail. Seahorse has a brown eye, yellow head, body, and tail, with a darker yellow coronet and dorsal fin. Seahorse is very thin and flat when viewed from the front or back.
Characteristics
Edit
Like all Ocean mascots, Seahorse moves across the floor of the Ocean terrain leaving a fleeting trail of bubbles. Like its real counterpart, Seahorse floats and swims horizontally, while holding its body vertically upright. When Seahorse swims, its tail stretches back. A splashing sound is heard with each movement, as well as background sounds of bubbles and water typical of the Ocean terrain. When Seahorse remains on the spot, its body drifts slowly in all directions as though moved gently by the water. When Seahorse collides with another fish, a slamming sound is heard. When Seahorse dies, it releases a final spray of bubbles. If Seahorse remains still for too long or retreats too far, it is swallowed by a large whale.
How to Obtain
Edit
Seahorse can be unlocked from the Prize Machine for 100 Coins, or you can purchase it for $0.99.
The Crossy Road Seahorse mascot is based on the aquatic animal. Seahorse is the name given to 45 species of small marine fish in the genus Hippocampus. "Hippocampus" comes from the Ancient Greek hippokampos, itself from hippos meaning "horse" and kampos meaning "sea monster".
The Seahorse mascot mimics the movement of a real seahorse. Seahorses swim upright, propelling themselves using the dorsal fin. They are one of only two types of fish that swim while holding themselves vertically.
Seahorse is currently located with the other Ocean mascots and is the image on the Ocean mascot signage.
Community content is available under
CC-BY-SA
unless otherwise noted.