Train
Speed
Very fast
Characteristics
Only appears on railroads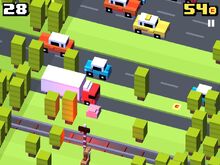 Trains are a type of obstacle the player will encounter while playing Crossy Road. They only appear on railroads and are known for their incredible swiftness that can kill the player with ease.
Trains pose a threat in Crossy Road because they move very swiftly. Their speed can catch an unfocused or new player off-guard.
Avoidance
Edit
Despite their speed, trains can be easily avoided. Simply by checking the railway lights, a player can tell if a train is coming. When the railway lights turn red, a player can know a train is coming and giving them time to either get off the tracks or not get on the tracks at all.
The Train appears with most mascots on railroads. Trains look like a normal train. They are many shades of blue with some yellow near the bottom and in front. They are composed of multiple cars and have nine windows per car.
Seoul Subway Line 2 train
Edit
The Seoul Subway Line 2 Train was added in the Korean Update. It only appears when playing as Korean mascots on railroads. It is supposed to look like the real Seoul Subway Line 2. But since its original model looked nothing like the Korean subway, the train looks this way. It is confused as a high-speed train. It has a gray body and a big green rectangle that surrounds the windows. On the top of the train, it has two grey emergency exits and in the front, it has 2 lights and a big window. All of this is in each car.
Rio Trolleys
Edit
The Rio Trolleys are added in the Rio de Janeiro update. They are yellow-and-orange trolleys similar to the trolleys in the actual Rio de Janeiro city in Brazil.
Herd of Pachycephalosaurs
Edit
The herd of Pachycephalosaurs replaces the trains in the Dinosaur update. As their name suggests, they are a herd of dark blue Pachycephalosaurus who stampede on cue of a Pterodactyl perched in a tree cawing.
The Train resembles a Siemens train as deployed by Metro Trains in Melbourne, Australia; home of Hipster Whale.
Community content is available under
CC-BY-SA
unless otherwise noted.